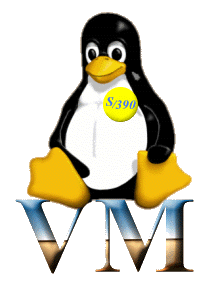 Last updated on:
Sunday, July 06, 2008


Software
Information
Community
News
Fun
Credits

---
"Linux for zSeries and S/390: ISP/ASP Solutions" RedBook Team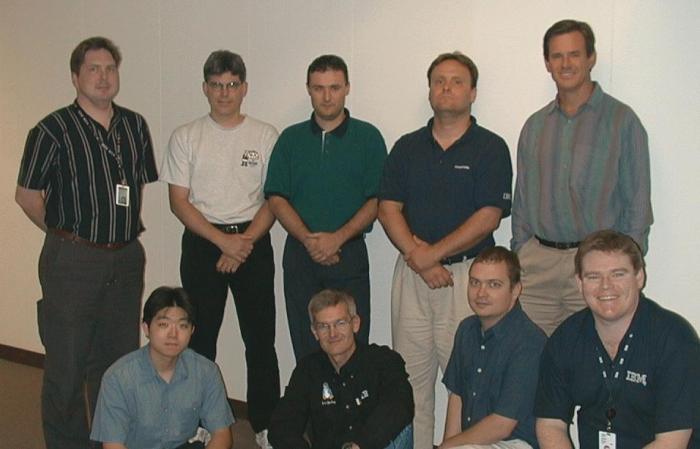 This is the team that produced the third IBM RedBook on Linux/390, "Linux for zSeries and S/390: ISP/ASP Solutions, SG24-6299."

Standing, left to right:
Vic Cross, Mike MacIsaac, Ivo Gomilšek, Martin Soellig, Barton Robinson

Kneeling, left to right:
Peter Chu, Rob van der Heij, Chris Curtis, Simon Williams

(Liz Holland was not available for the photograph).

Peter Chu is an IBM zSeries Techline Specialist in California. He holds a degree in Computer Science from George Mason University. His areas of expertise include Capacity Planning for the zSeries and Linux.

Vic Cross is Linux for S/390 and zSeries Team Leader in the Professional Services division of Independent Systems Integrators, an IBM Large Systems Business Partner in Australia. He has 15 years of experience in general computing, six of which was spent working on S/390. He holds a Bachelor of Computing Science degree from Queensland University of Technology. His areas of expertise include networking and Linux.

Chris Curtis is a Senior Consultant with Satel Corporation, an IBM Business Partner in Salt Lake City, Utah, specializing in security consulting and providing managed security services. He has 12 years of experience in software and systems engineering on platforms of all sizes, from embedded through mainframe. He holds a degree in Computer Science from Westminster College. His areas of expertise include high-availability systems, databases, and advanced software architectures.

Ivo Gomilšek is an IT Specialist for Storage Area Networks, Storage and Linux in IBM Global Services - Slovenia for the CEE region. His areas of expertise include Storage Area Networks (SAN), Storage, IBM eServers xSeries servers, network operating systems (Linux, MS Windows, OS/2), and Lotus Domino servers. He is an IBM Certified Specialist in xSeries, a Red Hat Certified Engineer, and an OS/2 Warp Certified Engineer. Ivo was a member of the team that wrote the IBM Redbook Designing an IBM Storage Area Network, SG24-5758, and contributed to various eServer xSeries and Linux Integration Guides. He also provides Level 2 support for SAN, IBM eServer xSeries,and high availability solutions for IBM eServer xSeries and Linux. Ivo has been employed at IBM for four years.

Rob van der Heij is a VM Systems Programmer with IBM Global Services in The Netherlands. He has 20 years of experience with VM Systems Programming and has been working with Linux for S/390 since late 1999. His area of expertise focuses on VM, including running a large number of Linux images on a single S/390.

Liz Holland is a Consulting IT Specialist at the Dallas Global e-business Solution Center and is a member of the IT Specialist Certification Board. She specializes in e-business on S/390 and zSeries, supporting OS/390 WebSphere, Linux, Domino, and UNIX System Services. Her technical papers include a Redpaper on Domino performance on S/390, revisions to the VIF Users Guide, and Redbooks on Component Broker. She began working for IBM in 1980 fixing Selectric typewriters, and began supporting MVS/XA as a PSR in 1983.

Michael MacIsaac is a team leader for S/390 redbooks and workshops at the ITSO Poughkeepsie Center. He writes about and teaches classes on Linux for S/390 and zSeries. Michael has worked at IBM for 14 years, mainly as a UNIX programmer. He has led teams that have written Redbooks on OS/390 UNIX, S/390 file and print serving, and Linux.

Barton Robinson is president of Velocity Software, Inc. He started working with VM in 1975, specializing in performance starting in 1983. His previous publication experience includes the VM/HPO Tuning Guide published by IBM, and the VM/ESA Tuning Guide published by Velocity Software. He is the author and developer of ESAMAP and ESATCP.

Martin Söllig is an IT Specialist with Enterprise System Sales in Germany. He has 11 years of experience working in the S/390 field. He holds a degree in Mathematics from the University of Hamburg. His areas of expertise include S/390 and zSeries hardware, and major SW products on OS/390 and z/OS, with a special focus on the "new applications" on this hardware since 1999.

Simon Williams is a Senior I/T Specialist with IBM Australia. He has been working on Mainframe Systems since 1988. He specializes in System/390 and zSeries "new technologies" such as Linux, UNIX System Services and WebSphere. His technical publications include an ITSO Redbook on migrating to Domino/390 Release 5, and a Redpaper on how to install Linux for zSeries and S/390 guests under VM.